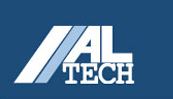 The origins of ALTECH self-adhesive labeling machines

In September 1991 the first ALTECH labeling machine went into production. It was the result of the efforts of a small group of people united by the intention to produce innovative labellers together. Today, millions of self-adhesive labels are applied every day by ALTECH systems; from the Bareggio factory, close to Milan, the labellers reach their customers all over the world.

Industrial labellers, self-adhesive label applicators, linerless labels and sleeves, consisting of simple labeling heads that can be integrated into existing packaging lines, or complete linear systems equipped with conveyors and adjustment devices, spacing, orientation, control, ejection and sorting, in compliance with the most sophisticated production requirements of customers.

These machines come with print & apply systems for real-time label printing / removal, of which ALTECH is an innovative leader in the field of hardware identification, coding and traceability.

The wide and articulated range of ALTECH self-adhesive labeling machines, so flexible, flexible, reliable and efficient, is the most obvious result of ALTECH's twenty years of experience as a curious, available and intelligent actor on the market. A company whose expert staff and resources make it possible to improve day by day this "advanced labeling technology" to which its name refers: ALTECH.