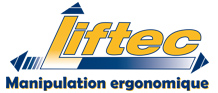 Liftec offers 3 main lines of products:

Vacuum lifter
Cupping manipulator
Manipulator trolley
All the techniques that allow to relieve, secure and improve the productivity in the handling of load on different workstations.
We establish with you your specifications and develop solutions either standard or tailored specifically to your needs.

Ranges:

Ergonomic trolleys: steel, aluminum and stainless steel with electric lift. Manual gripping tool, electric and hydraulic. From 10 to 800kg.
Pusher trolley / tractor on battery
Lifting table
Suction manipulator tube
Vacuum lifter industrial application, construction and glass (on battery).