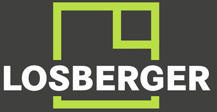 Alsatian company recognized as the specialist in the design, manufacture and marketing of tents and structures for events, buildings for industry and local communities. Whether in frame aluminum, steel or wood, textile cover our structures and buildings recognizable from afar by their aesthetics, offer certain advantages: speed of installation and construction, different solutions of anchoring and ballast, modularity, mobility , acoustic comfort, natural brightness, respect for the environment, respect of the templates of the various sports federations in force, customizable at will

Losberger has also just completed its offer by creating a construction division that offers traditional construction solutions in steel frame, wood frame or mixed steel tank cover that meet the latest constraints in terms of thermal insulation in particular.

Losberger RDS, a wholly owned subsidiary of Losberger France, based in Paris, is specialized in structures and buildings for civil and military security. Lastly, a historical activity of safety covers for swimming pools, benefiting from the same industrial process as the structures and known under the Walter Piscines brand, completes the trades of our company.

Specialized workers, engineers, dedicated salespeople, our team of 120 people, professional and motivated, is constantly listening to your needs to transform your projects into reality. A company on a human scale that has retained the strengths of craftsmanship (proximity with its customers, responsiveness, constant quest for quality, service) while offering the benefits of an industrialized process (reducing assembly time, optimization investment and operating costs, low environmental impact, standard products and spare parts in stock).