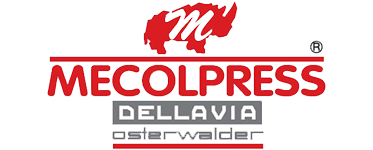 Mecolpress was created in 1969 with the aim of manufacturing presses for hot forging of metal alloys. The founders' design know-how and continuous research for technological innovations has enabled the company to gain a leading position among manufacturers in this specific field in a short time and to gain an excellent reputation all over the world. .

Initially all efforts were directed to hot forging of brass components, with standard presses up to 8000kN and with special presses up to 10000kN and more. Today, our presses can be used for hot forging of steel, copper, aluminum and other different alloys.

Over the past 10 years, mecolpress has acquired two well-known brand manufacturers in the screw press: DELLAVIA and Osterwalder.

Mecolpress has the know-how and experience to provide turnkey projects for complete forging lines, including sawing machine bars, shot blast machines, furnaces, presses, manual or automatic trimming presses and other machines specifically requested by the Customer, and manages the installation and commissioning of the entire line. Today, the plant covers an area of ??about 20000m2, 7000m2 which is a covered area. The organization of the company has been considerably improved. A software platform based on the modern MRP supports the planning of production activities to ensure deadlines are met.