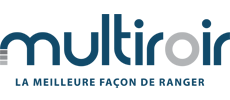 Since its creation in 1957, Multiroir is the specialist in the manufacture and sale of storage equipment for professionals. Many products, such as crystal multiroirs and LAB boxes, are manufactured in our French factories. Multiroir has kept its reputation and the technological challenges, over these 50 years, to offer you the solutions closest to your expectations. The secret of this longevity lies in listening to the needs and the priority we devote to customer satisfaction.

Multiroir is divided into two departments:

The medical department covers the needs of healthcare facilities (hospitals, clinics, pharmacies, retirement homes, etc.) in terms of medical logistics (see the medical website www.multiroir-medical.com). The company has developed expertise around the drug circuit with products such as pillboxes, medicine cabinets, dose preparation and medication trolleys.

The general department offers all professionals a very rich range of storage, storage and packaging products such as boxes, drawers, bins and plastic cases. Multiroir is also very well positioned in storage for specialized professions such as optics, dental, mouthwashes, jewelers, laboratories, electronics ...